Smoky Mountain Model Works, Inc.
Asheville, North Carolina • USA
Creating 20th Century Models Using 21st Century Technology
Smoky Mountain Model Works, Inc. • 35 Springwood Drive • Asheville, NC 28805
Ph.: (828) 777-5619 (10-5 M-F) • Email: jimking3@charter.net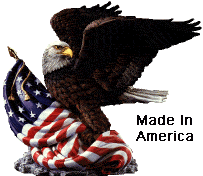 AAR 53' 6", 70-Ton Flat Car (O scale)
(11) roads bought the AAR "War Emergency" 70-ton, 53' 6" flat car between 1942 and 1948, including ATSF, B&O, CNJ, Pere Marquette (repainted C&O in late 1950s), IHB, NYC and Wabash. (Erie's cars had fewer Z-angle nailers and a different nailing pattern on the deck but were otherwise the same ... you'll need to make those changes to your kit ... Southern's 500 cars had 19 stake pockets). Many were modified over the years to haul containers, pulpwood, automobile frames, etc. Some roads added bulkheads. Many lasted in revenue service as-built well into the1970s ... others survived in MofW service into the 1990s.

Each kit includes 1-pc urethane underframe, steel weight (hidden in centersill during assembly), cast urethane deck with nail holes, separate AAR-style stake pockets, Kadee 740 couplers, wire and detail parts. A mini-CD contains 16 pages of instructions with roster info from Ed Hawkins and weathering ideas for the deck.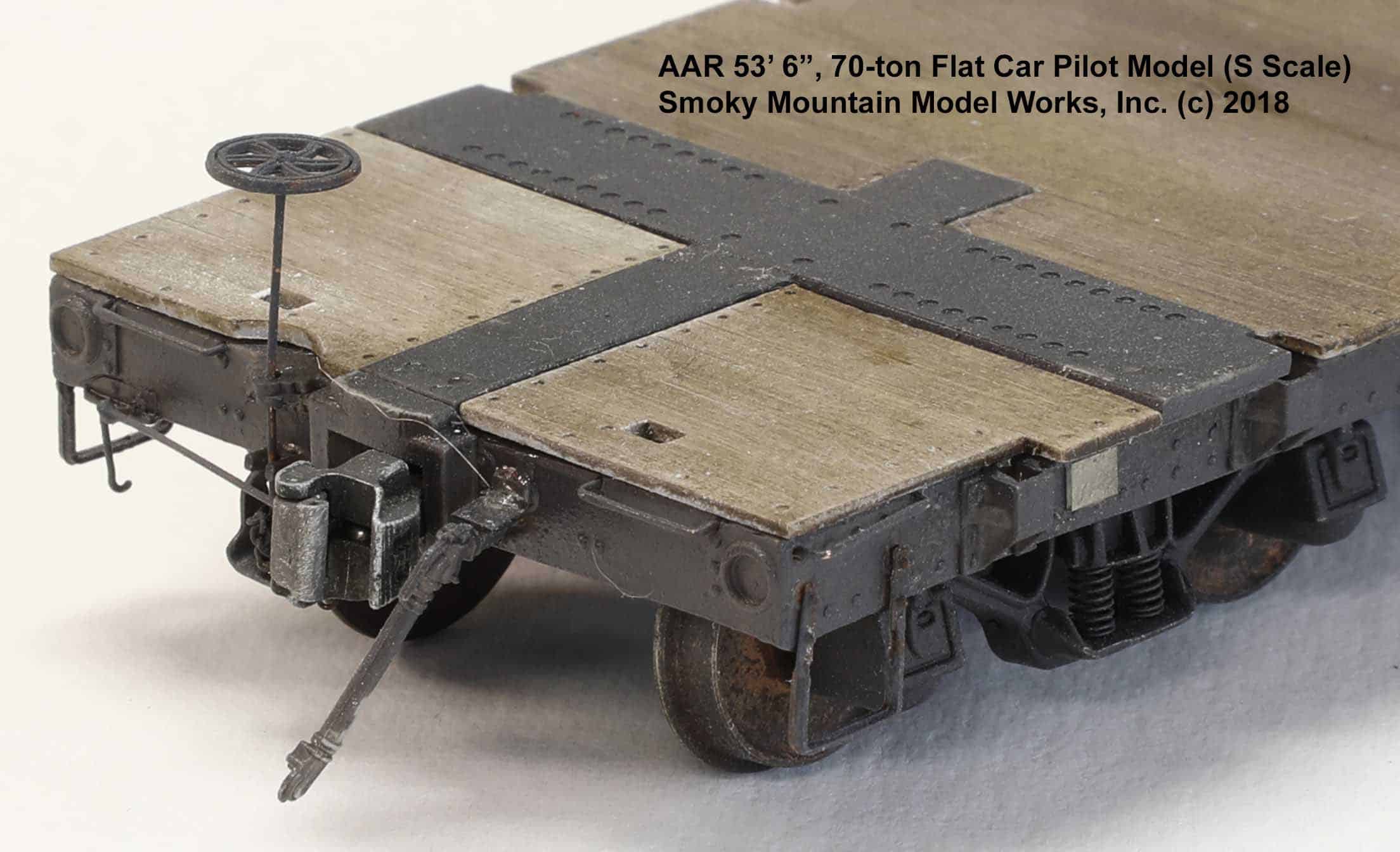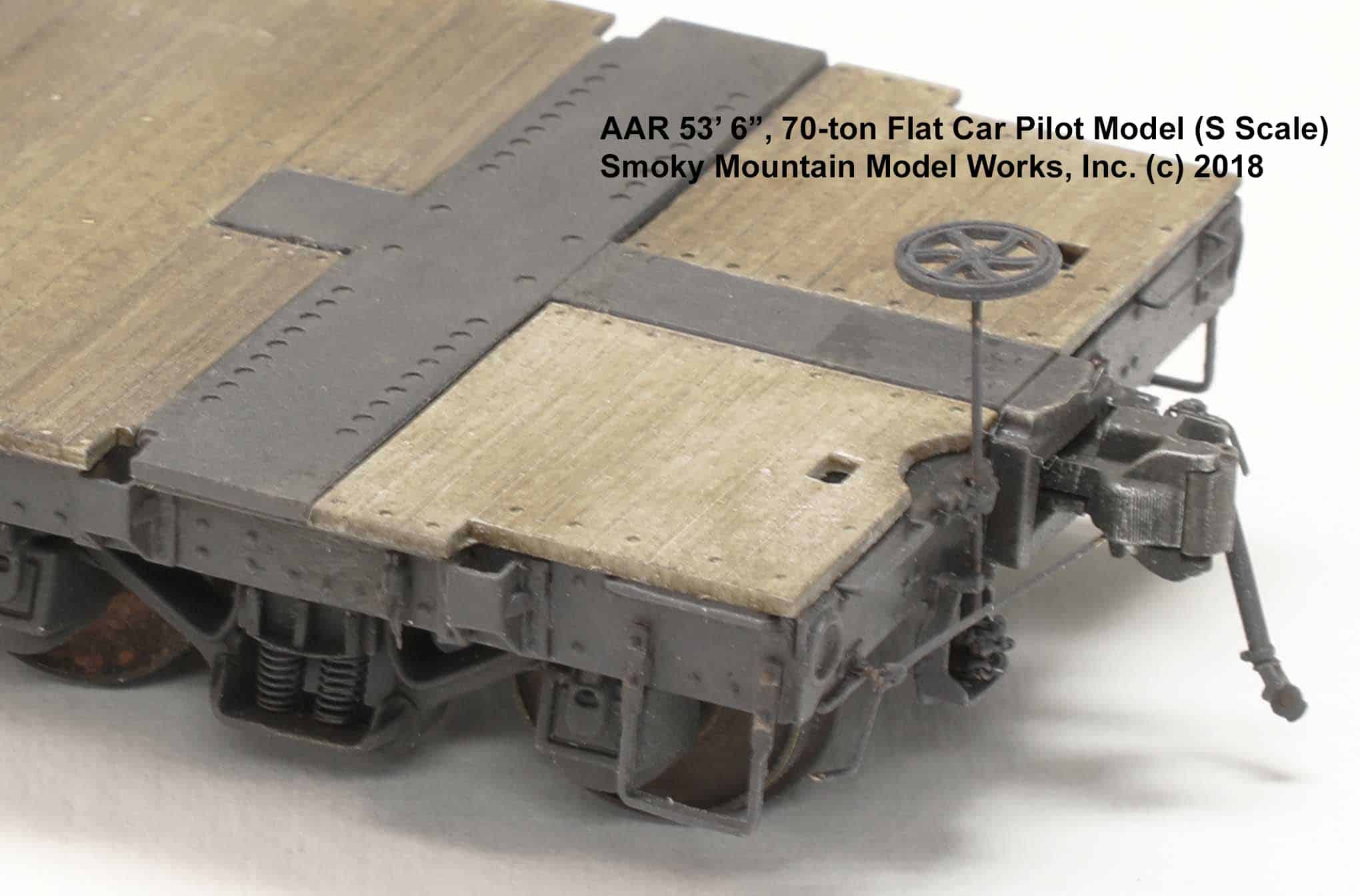 AAR Flat Car Testimonies ...

"I assembled the AAR flat car kit - WOW!! Your instructions were precise, concise - CLEAR. It went together very well ... " B. A., New Hampshire

"Castings look excellent. Great detail." S.K., Georgia

"I wanted to tell you how nice it went together ... the instructions were clear and the pictures extremely helped, very little flash, easy filing of crossmembers and a beautiful casting." D.S., Arizona

"Received my two O scale AAR flat car kits today. Very nice job on the castings as expected. Well worth the wait." J.M., Illinois

"After close inspection and sharing images I took of the kit components with others, I must proclaim out loud ... IMPECCABLE CASTINGS!! I look forward to assembling and running the car." Matt Forsyth, PA
O Scale >> Kit No. 48-F2 ... $110 + shipping (includes Kadee 740 cplrs; no trucks/decals)
*** IN-STOCK ***

O Scale >> Kit No. 48-F2x ... $105 + shipping (no trucks/decals/couplers)
*** IN-STOCK ***

Tichy Train Groups sells O scale decals for generic flat cars. Protocraft sells O scale decals specifically for this car (many owners).

O scale orders began shipping 3/2018